Directions:
From the West side of the state: (Kalamazoo, Grand Rapids, Big Rapids, Cadillac)
M-72 runs east from Traverse City to Barakel. If you come north on U.S. 131, go to just south of Kalkaska and turn east toward Grayling on M-72. Continue east to *Mio.
From the Central part of the state: (Lansing, St. Johns, Mt. Pleasant, Clare)
If you come north on U.S. 27 you'll notice that it merges with I-75 about 5 miles south of Grayling. Travel to the left-hand Grayling exit, number 254. After exiting, turn east on M-72 (a right-hand turn at the first traffic light). Travel 32 miles east to *Mio.
From the East side of the state: (Detroit, Ann Arbor, Flint, Saginaw)
Proceed north on I-75 to Exit number 202. This is the 'Alger' exit. At this point take M-33 north (right-hand merge at the exit) through Rose City to *Mio.
In the little village of Mio (our county seat)
M-72 and M-33 join at the traffic stop light (this is the only one in the county). At this point you are 9 miles from Fairview. Follow M-72 east or M-33 north (they are the same highway for these nine miles - saves time for the local snowplow drivers).
In the even smaller village of Fairview (our hometown)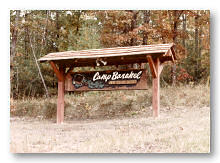 M-72 and M-33 separate at the yellow blinking traffic light (there is only one in Fairview). Stay on M-72 - this is done by driving straight through town. Come east of the traffic light for 5 miles. Our entrance is on the north (left) side of the road. There is a street light suspended above the highway at our entrance.
After turning left onto our dirt road:
Proceed north for a half-mile, where the first building you will come to is the Camp Office.